Welcome
THE MISSION
To improve justice for all Arkansans by promoting
education, literary, scientific and charitable purposes
WELCOME
Thank you for visiting arkansasbarfoundation.com, the website of the Arkansas Bar Foundation. We invite you to read about the Foundation and its projects and hope that the information contained in this website will answer questions you may have about the Foundation. You are encouraged to contact the Foundation office directly, with any inquiries you may have, and the staff will be happy to assist you.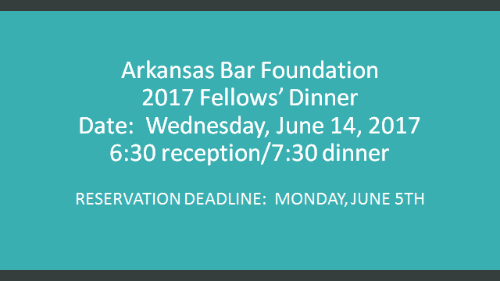 $75.00 PER PERSON BY CHECK OR ONLINE at:
https://secure.affinipay.com/pages/arkansas-bar-foundation/operating
THE ORGANIZATION
The Arkansas Bar Foundation was established in 1958 to support efforts at improving the administration of justice. The Arkansas Bar Foundation, which is classified as a tax exempt organization under Section 501 (c) (3) of the Internal Revenue Code, is a charitable organization with a mission to promote educational, literary, scientific and charitable purposes.
THE ARKANSAS BAR CENTER
The Arkansas Bar Foundation owns the Arkansas Bar Center, located at 2224 Cottondale Lane in Little Rock. It is conveniently located just five minutes west of Downtown Little Rock in the Riverdale area. This space is perfectly suited for meetings, receptions, mediations, arbitrations and depositions. To reserve space, please call the Arkansas Bar Center at 501.375.4606.
To access the ABA homepage, please click on the link below:
Contact
Address : 2224 Cottondale Lane
Little Rock, AR 72202
Phone : (501) 375-4606
Fax : (501) 375-4901