Welcome
THE MISSION
To improve justice for all Arkansans by promoting
education, literary, scientific and charitable purposes
WELCOME
Thank you for visiting arkansasbarfoundation.com, the website of the Arkansas Bar Foundation. We invite you to read about the Foundation and its projects and hope that the information contained in this website will answer questions you may have about the Foundation. You are encouraged to contact the Foundation office directly, with any inquiries you may have, and the staff will be happy to assist you.
UPCOMING EVENT!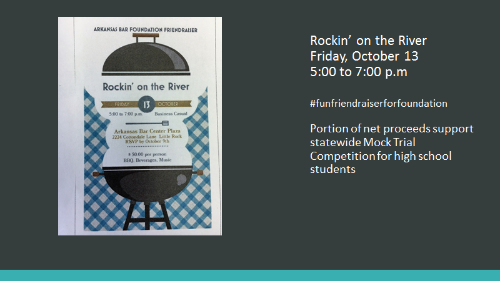 1ST ANNUAL FOUNDATION FRIENDRAISER: ROCKIN' ON THE RIVER
The Foundation's mission as a charitable organization is to improve and facilitate the administration of justice, among others. A portion of the net proceeds from this event is dedicated to the Statewide High School Mock Trial Competition. Over one hundred volunteers make this project possible, and with help from sponsors and those who purchase tickets to attend this event, you may help us fund this program at a higher level while having the opportunity to enjoy a "friendraiser" with Fellows and friends of the Arkansas Bar Foundation. Come one, come all....this is not a Fellows only event. We encourage to you to bring friends, both from within and outisde the legal profession. This event will be held at the Arkansas Bar Center, 2224 Cottondale Lane, on the Wright Lindsey Jennings Plaza. We hope you will join us!
Tickets are $50.00 per person. Reservation deadline is October 9 and event is for adults 21 years of age or older. You may mail a check payable to the Arkansas Bar Foundation, 2224 Cottondale Lane, Little Rock, Arkansas 72202 or pay online at https://secure.affinipay.com/pages/arkansas-bar-foundation/friendraiser
#RockinSponsors
The Arkansas Bar Foundation is grateful to the Sponsors
supporting the 2017 Foundation Rockin' on the River Event
Star Presenting Sponsor
Hare, Wynn, Newell & Newton, LLP
Presenting Sponsors
Kutak Rock LLP
Wright Lindsey Jennings
VIP Sponsors
AVANSIC EDiscovery & Digital Forensics
Cross, Gunter, Witherspoon & Galchus, P.C.
Nancy Fogleman
Gill Ragon Owen, P.A.
James Carter & Priebe LLP
Midwest Litigation Services
Pivot Legal Services
Waddell,, Cole & Jones, PLLC
Womack Phelps Puryear Mayfield & McNeil, P.A.
Partner Sponsors
Arkansas Craft Distributors
BancorpSouth Insurance Services, Inc.
Dover Dixon Horne PLLC
Dunn, Nutter & Morgan, LLP
Friday, Eldredge & Clark LLP
Fuqua Campbell, PA
James, House, Downing & Lueken P.A.
Mayton, Newkirk & Jones
O'Looney's Wine & Liquor
PPGMR Law, PLLC
Rose Law Firm
Stephens Inc.
Watts, Donovan & Tilley, P.A.
To access the ABA homepage, please click on the link below: