Welcome
THE MISSION
To improve justice for all Arkansans by promoting
education, literary, scientific and charitable purposes
WELCOME
Thank you for visiting arkansasbarfoundation.com, the website of the Arkansas Bar Foundation. We invite you to read about the Foundation and its projects and hope that the information contained in this website will answer questions you may have about the Foundation. You are encouraged to contact the Foundation office directly, with any inquiries you may have, and the staff will be happy to assist you. Please check the news page for additional information on upcoming events.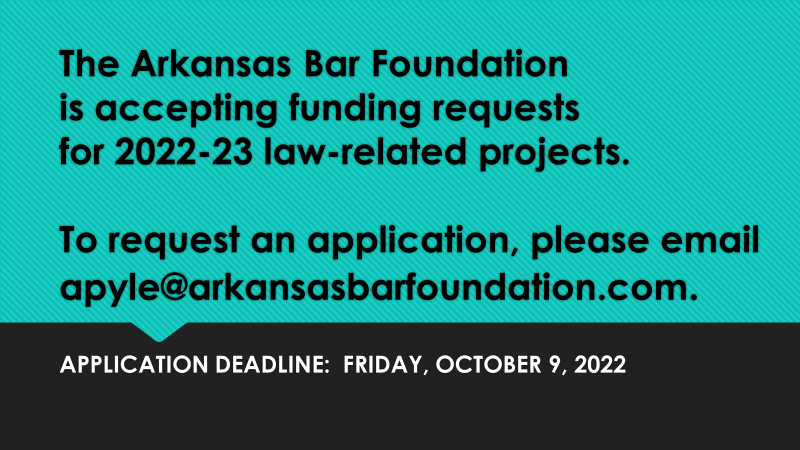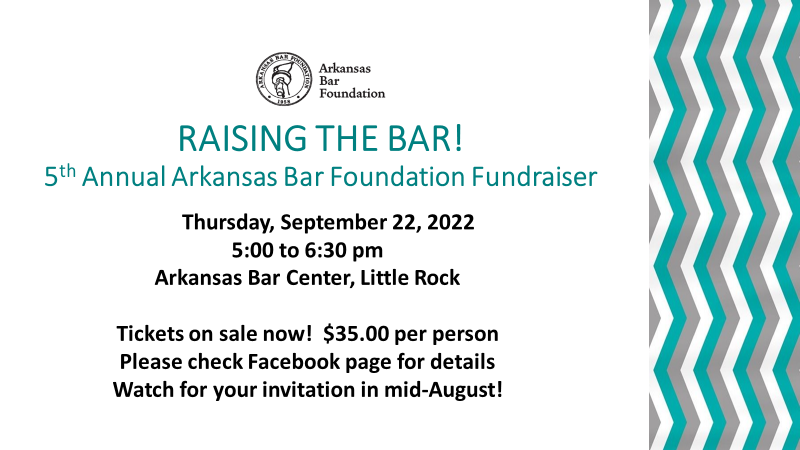 To purchase tickets online, please visit:
https://secure.affinipay.com/pages/arkansas-bar-foundation/raisingthebar
THANK YOU!
2022 Raising the Bar Sponsors
STAR PRESENTING SPONSORS
Mitchell Williams
Quattlebaum, Grooms & Tull PLLC
PRESENTING SPONSORS
Anderson, Murphy & Hopkins, L.L.P.
Arkansas Association of Defense Counsel
Colliers
Friday, Eldredge & Clark LLP
Fuqua Campbell, P.A.
Hall Estill
Hall Booth Smith, P.C.
Landmark CPA
Melanie and Edward Oglesby
PPGMR Law, PLLC
Rainwater, Holt & Sexton P.A.
Rose Law Firm
Wright, Lindsey & Jennings LLP
VIP SPONSORS
Arkansas Chapter of ABOTA
Andrea and Michael H. Crawford
Cross, Gunter, Witherspoon & Galchus, P.C.
Nancy and Judge John N. Fogleman
Gill Ragon Owen
Ede and Curtis Hogue
Law Office of Danyelle Walker, PLLC
Mayton, Newkirk & Jones
McKenzie, Vasser & Barber, PLLC
Pivot Legal Services
Sprott, Golden & Bardwell
Waddell, Cole & Jones PLLC
Womack Phelps Puryear Mayfield & McNeil, P.A.
PARTNER SPONSORS
Kutak Rock, LLP
Jeffrey and Lester McKinley
Charles D. "Chuck" Roscopf
Judge Cindy and Judge Christopher Thyer
Vicki S. Vasser